Upcoming Events
8th Grade Grad-Venture – May 10th 
Students depart at 12:30 from school
Wild Adventures and Busch Gardens End of the Year Trips – May 10th
Depart at 7:00 AM
Senior Breakfast – May 15th at 8:00 am
Graduates are free, guests are $10 each.
8th Grade Promotion Ceremony – May 23rd at 9:45 am
Students are free, guests are $5 each.
More information here.
---
Final Week Schedule
Monday – Wednesday will be regular school days.
Thursday, May 23rd
9:15-9:50 Period 1
9:55-10:30 Period 2
10:35-11:10 Period 3
11:15-11:50 Period 4
11:55-12:30 Period 5
12:30-1:00 Lunch
1:00 Buses depart
Friday, May 24th
9:15-10:05 Period 6
10:10-11:00 Period 7
11:00-11:30 Lunch
11:30 Buses depart
---
For Students in Need of a School or Sports Physical
---
A Recent Field Study with the Academy of Coastal and Water Resources
The Academy of Coastal and Water Resources got up close and personal with their water today.  They saw plenty of dolphin feeding, shorebirds and marine life.  We are fortunate to have St. Augustine Eco Tours along with a grant from Target to make this happen each year.  A good and educational time was had by all.  Below are a few photos from the trip.
---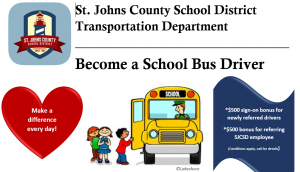 Learn more about the great benefits here!
---
End of the Year Field Trips for the 2018-2019 School Year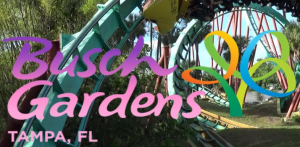 9th-11th Grades:  Trip to Busch Gardens Tampa on May 10th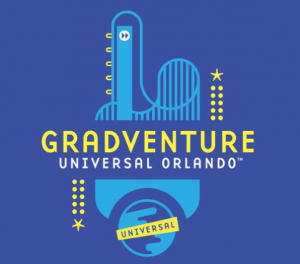 8th Grade: Trip to Universal Studios Gradventure on May 10th
Forms Due March 1st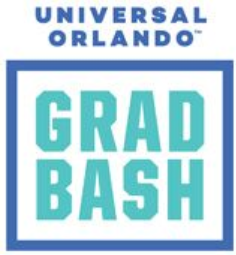 12th Grade: Trip to Universal Studios Grad Bash on TBA
Cost is $140, the first 10 students get $50 discount!
Forms Due February 22nd 
For more information please call the front office. 
All students can participate in a candy fundraiser to offset trip costs.
---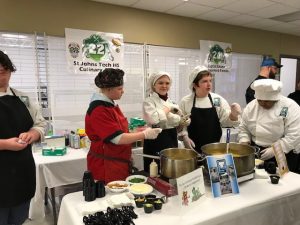 Super Finish at the Souper Bowl!
The Academy of Culinary Arts at St. Johns Technical High School took 1st place amongst local area restaurants in the 2019 Souper Bowl soup competition.  The students' Creamy Tortilla Soup won the People's Choice Award over chefs from 26 local restaurants!
The Academy of Culinary Arts students have participated in the Souper Bowl for the past four years.  Each year, the students hone their soup making skills.  From roasted and fresh vegetables, homemade stock and even deboning the chicken, everything that went into their award winning soup was made from scratch and with TLC.  The students carefully prepared two different varieties of their delicious Tortilla soup, both chicken and vegetarian with Jack Fruit.  The soup tasters were able to top off their soup with handmade tortilla strips, avocado, cilantro, Cotija cheese and sour cream.
The students were thrilled with the winning outcome.  Not only did they refine their culinary skills but they gained confidence in their abilities to compete with professionals in the industry.  The Souper Bowl is also phenomenal service learning experience in which the rewards of serving those in need is the real victory for the students.
---
CHANGES TO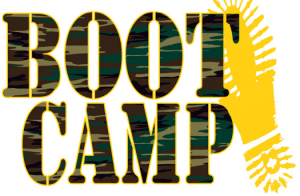 For: Current Algebra, Geometry, and Biology students
TUESDAYS AND THURSDAYS EVERY WEEK DURING LUNCH
Students will get their lunch and eat in the teacher's classroom to get additional help in their course.
---
This Just In:
The Florida Teen Reads
2018-2019
Have Been Released!
Click here to see the full list of High School Titles and Summaries.






Click here to see the full list of Middle School Titles and Summaries.




---
Important Health Notices:
FREE Shots-Physicals July 17th
FREE Shots & Physicals July 24th
Florida Health Letter – Flu Letter To Parents – Flu
---
SJTHS Mission Statement
The mission of St. Johns Technical High School is to customize and deliver an appropriate learning path for each student in a supportive and responsive environment where students who might not otherwise experience success are encouraged to develop a strong work ethic while exploring vocational opportunities and achieving high standards in character and academics.
Parents and Guardians
In a continuing effort to provide safety and security to our students and staff we ask that you complete a School Access Form if you plan to enter a facility in the St. Johns County School District. Any person passing beyond the front office area must show a valid driver's license or state identification card.Go to the School Access Form (formerly referred to as a Volunteer Application)
Get your SJTHS Spirit on and share your wolf pride!

Fill out this order form and turn it into the front office.
>>>>>>>>>JOIN THE PTO FACEBOOK GROUP. <<<<<<<<<<