Upcoming Events
---
Final Exam Schedule
Monday, May 21 – two exams
9:15 – 10:45      1st Period Exam
10:45 – 10:55     Break
10:55 – 12:25     2nd Period Exam
12:30 – 1:00      Lunch
Buses depart at 1:00
Tuesday, May 22 – two exams
9:15 – 10:45      3rd Period Exam
10:45 – 10:55     Break
10:55 – 12:25     4th Period Exam
12:30 – 1:00      Lunch
Buses depart at 1:00
Wednesday, May 23 – two exams  
9:15 – 10:45      5th Period Exam
10:45 – 10:55     Break
10:55 – 12:25     6th Period Exam
12:30 – 1:30      Lunch
1:30 – 2:45        7th Period
Buses depart normal time.
Thursday, May 24 – one exam    
9:15 – 10:45      7th Period Exam
10:50 – 11:20 Lunch
                Buses depart at 11:25
11:30 – 1:00    Exam make up
---
Parents of ESE Students:
---
Important Health Notices:
FREE Shots-Physicals July 17th
FREE Shots & Physicals July 24th
Florida Health Letter – Flu Letter To Parents – Flu
---
---
7th Grade and 8th Grade After School Tutoring Begins!
Students are given time to complete enrichment activities linked to increasing student achievement.  Students will also be given the opportunity to complete necessary remediation.
Tutoring Dates
Jan 24th & 31st
Feb 7th & 14th
April 4th & 11th
---
Textbook Adoption:
The St. Johns County School District took action on February 13, 2018, to adopt science instructional materials. A complete list of the adopted materials is available on the SJCSD Instructional Materials website.  A petition period for parents and residents of St. Johns County is open from February 14 to March 15, 2018.  Petition process information is also available on the SJCSD Instructional Materials website. Questions may be directed to the SJCSD Instructional Resources Office at 904.547.3947.
---
SJTHS Mission Statement
The mission of St. Johns Technical High School is to customize and deliver an appropriate learning path for each student in a supportive and responsive environment where students who might not otherwise experience success are encouraged to develop a strong work ethic while exploring vocational opportunities and achieving high standards in character and academics.
Parents and Guardians
In a continuing effort to provide safety and security to our students and staff we ask that you complete a School Access Form if you plan to enter a facility in the St. Johns County School District. Any person passing beyond the front office area must show a valid driver's license or state identification card.Go to the School Access Form (formerly referred to as a Volunteer Application)
Student Recognition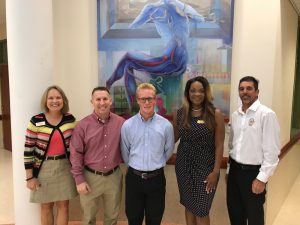 Wyatt Siddle, a senior in the Academy of Coastal and Water Resources, was awarded an internship with St. Johns County Utilities this past summer.  Wyatt  served at the County's newest water reclamation plant, the Northwest Water Reclamation Facility.  He carried out many roles of a plant operator which included:  collecting  and analyzing samples, pump maintenance, plant trouble shooting and process control adjustments.  Academy students, such as Wyatt, are given internship opportunities to build on-the-job skills so they become career ready upon graduation.  St. Johns Technical High School is fortunate to have strong community partnerships that support our students and career programs.
Get your SJTHS Spirit on and share your wolf pride!

Fill out this order form and turn it into the front office.
>>>>>>>>>JOIN THE PTO FACEBOOK GROUP. <<<<<<<<<<